We'll Help You Find the Right Housekeeper/Nanny to Make Your Life Easier…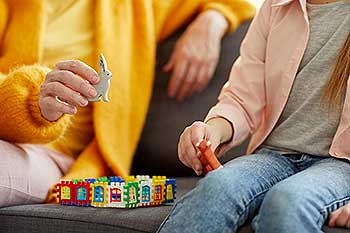 The Domestic Staffing Experts at Hamptons Employment Agency are ready to help you find the right Housekeeper/Nanny to make your life at home easier. We place caring, experienced, and thoroughly-screened Housekeeper/Nannies who meet the individual needs of our discriminating clients.
At Hamptons Employment Agency, we have the experience and endorsements necessary for you to feel confident working with us. A member of the Better Business Bureau with an A+ rating, we are also rated 4.9/5 on Google Reviews. Moreover, we've been awarded the Dan's Papers #1/Platinum Best Domestic Agency award for 10 years in a row (2012-2022).
While we help residential employers located in many parts of the U.S., the main geographic areas that we serve in placing Housekeeper/Nannies include the New York City Area; The Hamptons and the rest of Long Island; Connecticut, New Jersey, the Boston Area; the San Francisco Bay Area; and Florida.
Below is a summary of the Housekeeper/Nanny position. While this general overview covers typical aspects of the role, based on your particular needs and preferences certain additional duties may be required while other ones are not needed.
Housekeeper/Nanny Description
A Housekeeper/Nanny is generally responsible for broad housekeeping duties at a private residence, as well as for caring for the employer family's children. A Housekeeper/Nanny's housekeeping duties may include cleaning, vacuuming, laundering, dusting, ironing, silver polishing, caring for pets, and running errands. For an employer with a larger domestic staff, the Housekeeper/Nanny's duties may be more focused. For example, the role may mainly involve Nanny duties with housekeeping responsibilities serving to provide backup help for the other Housekeepers that are part of the household staff.
A Housekeeper/Nanny's childcare responsibilities typically center on preparing the children's meals, coordinating the children's activities, and keeping the children's rooms and play areas neat and clean. Other childcare duties required could include doing the children's laundry and driving the children to and from school and events.
The salary that you will pay your Housekeeper/Nanny is based on your location, your particular requirements, and the Housekeeper/Nanny's work experience. Benefits, perks, and other forms of compensation provided also affect the salary level.
Our Household Staffing Experts are here to help you find the right person for the position at your residence, including the following:
Long Island, NY Housekeeper/Nanny (Hamptons, Gold Coast, etc.)
New York City Housekeeper/Nanny
Boston Area/New England (MA, NH, VT, ME, RI, CT) Housekeeper/Nanny
Connecticut Housekeeper/Nanny
New Jersey Housekeeper/Nanny
Florida Housekeeper/Nanny
San Francisco Bay Area Housekeeper/Nanny
We also serve other areas (please contact us for more information)
Request Your Complimentary Copy Today of How to Find, Hire and Keep The Right Domestic Professionals: The Household Employer's Guide to Hiring Great Employees Who Will Stay for Years

How to create a profile of the right person from the start of your search
Ways to recruit well qualified candidates
Powerful tips for reviewing resumes
How to conduct effective interviews
Using red flags and background checks to avoid hiring mistakes
How to use a welcome letter to get everyone on the same page
How to keep great people for the long-term
Salaries and descriptions of domestic positions
Legal considerations for avoiding employment problems
Information on following tax requirements
Contact us today for a no-cost, no-obligation, privacy-assured phone consultation. Please feel free to call us at one of our offices:
The Hamptons: 631-204-1100
New York City: 212-810-9828
Boston: 617-865-5888
Boca Raton: 561-560-0001
Or, use our brief and easy online Staffing Inquiry Form.
We look forward to hearing from you regarding your Residential Housekeeping needs.
Other Domestic Staff Available from Hamptons Employment Agency: