Looking for The Right Domestic Staff Member? Let Us Do the Work for You…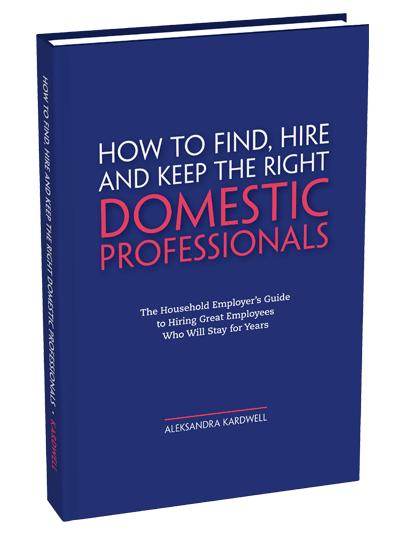 Principals, Managers & Assistants
Request a Complimentary Copy of Hamptons Employment Agency, Inc. President Aleksandra Kardwell's Recently Released Book,
How to Find, Hire, and Keep the Right Domestic Professionals: The Household Employer's Guide to Hiring Great Employees Who Will Stay for Years
Claim Your FREE COPY of Aleksandra's
Domestic Staffing Guide Book Today
At Hamptons Employment Agency, Inc. (HEA), our goal is to make your life easier and increase your peace of mind by helping you find just the right person for your unique needs and preferences. When you work with us, you can count on professional, friendly, and ethical service combined with our satisfaction guarantee and warranty.
With offices in Southampton, New York City, Boston, and Boca Raton, our licensed, insured, award-winning agency matches leading domestic professionals with discriminating families and individuals. We'll provide you with the experience and professionalism necessary to help you find the right person for your requirements and preferences.
Whether you require one-time, seasonal, or year-round support, Hamptons Employment Agency is here to provide you with a premier domestic staffing solution.

The Hamptons Employment Agency Domestic Staffing Specialties
Our passion is to provide you excellent service — let us do the work for you in finding the right domestic staff member for your family! We represent experienced and highly qualified domestic staffing candidates for the following positions:
Contact us today for a no-cost, no-obligation, privacy-assured phone consultation. Please call our Hamptons Office at 631-204-1100, our New York City Office at 212-810-9828, our Boston Office at 617-865-5888, or our Florida Office at 561-560-0001. We look forward to hearing from you regarding your domestic staffing needs.

Candidates – Please learn more about the domestic job opportunities available to you at our Find a Domestic Job section. It's 100% free to apply. You may also call us at 631-204-1100, 212-810-9828, 617-865-5888, or 561-560-0001. Or, email us at jobs@hamptonsemployment.com