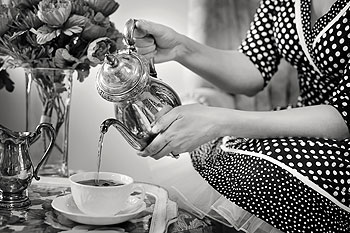 As Henry James so eloquently noted in The Portrait of a Lady, "There are few hours in life more agreeable than the hour dedicated to the ceremony known as afternoon tea."
In The Art and Etiquette of English Afternoon Tea Program, you'll learn the essentials necessary for hosting and/or partaking in the sophisticated ceremony of English afternoon tea. Our European Etiquette Specialist will conduct the program in your home or at another venue of your choice.
The Art and Etiquette of English Afternoon Tea Program modules include the following:
The history and tradition of afternoon tea
Tea types
Forms of service and their differences

Afternoon Tea
Cream Tea
Royal Tea
High Tea

Preparation
Traditional recipes
What to wear
Hostess and Guest duties
Tea Etiquette

Who pours the tea
Serving steps
Holding the cup
Conversation
This Course is also available for our Young Diplomats (4-7 years old). If you are interested in this youth program, please contact us for detailed information.
For additional information on any of our etiquette programs, give us a call at one of our four locations listed below.
Hamptons Office: 631-204-1100
New York City Office: 212-810-9828
Boston Office: 617-865-5888
Florida Office: 561-560-0001
Or, email us at info@hamptonsemployment.com