Household Staffing > Interviewing Domestic Staff Part 1 > Interviewing Domestic Staff Part 2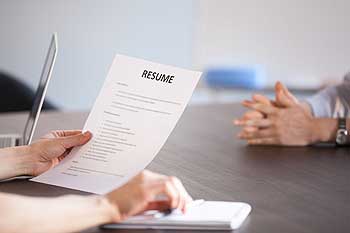 When interviewing, it's also important to keep in mind those areas — based on U.S. federal and state laws — for which you must not ask questions or take great care in doing so. Hiring and Keeping the Best People from The Harvard Business Essentials lists the following questioning topics that could get you into trouble:
Age or date of birth
Religion
Marital status
Intention to have children
Race
Gender or sexual orientation
National origin, ethnicity, and/or ancestry
Citizenship
Disability or handicap
Education unrelated to the ability to do the job
Arrests and conviction records (note that your background check will reveal any issues)
Garnishment of wages
Especially during the initial interview(s), it's also useful to take notes. While some people feel uncomfortable taking notes, note-taking by an interviewer is a perfectly normal thing. You might even choose to mention to the applicant at the start of the interview, "I'll be taking some notes to help me accurately remember what we discuss today."
Moreover, throughout the interviewing process, the safest way to go is the ethical way. Be straightforward and honest about the position you're looking to fill. Mention the negatives (or potential negatives) as well as the positives of the position to ensure that everyone is on the same page regarding the realities of the job. For example, if the position involves six- or seven-day workweeks during the summer, and not five-day workweeks, be upfront about that reality.
Bad things often happen when applicants get into a job and undesirable surprises arise. You want a candidate to be clear about what the job is and involves, and you want them to have no meaningful reservations about taking the job. In fact, I've found that when residential employee/employer matches fail, it's usually for one reason: the employer or employee (and sometimes both) had an insufficient or unclear view of the expectations of the other party and/or the nature of the job itself.
It's important to keep in mind that during the interview, evaluation goes both ways: while you're assessing what a candidate can bring to the table, a good candidate will be evaluating whether they are interested in pursuing the position. Remaining present and in control of your emotions during the inter- view is essential to garnering the information you need from candidates and presenting yourself in the best light. Regardless of what is said, by "keeping your cool" you will be able to collect useful information about an applicant, make a good impression, and successfully lead the interview to its appropriate end (even if the candidate is a definite "no").
To close the interview, you might want to mention to the applicant that the interview is coming to a close. Thank them for coming in to meet with you. Depending on your level of interest in the candidate, you can advise them of the next steps. For example, for a strong candidate, you could let them know that you think they might be a great fit and that you will proceed with checking references. You can advise the candidate that you will get in touch with them within a few days regarding a second interview (it's often a good practice to meet candidates two or more times before making your decision).
For a weak candidate, you might tell them that you are interviewing a number of other candidates and will be in touch with them once your interviewing process is finished. Of course, it's always best to call or email those individuals who you do not end up hiring to thank them again for coming in and to let them know that you chose a different candidate who was a better match for the position.
After the interview, it's helpful to organize and elaborate on your notes while they are fresh in your mind so that you can have a good summary record of the meeting. If you're doing back-to-back interviews with many candidates, then I suggest allocating about five minutes at the end of each interview for wrapping up your notes. After you've interviewed a dozen (or even a half-dozen) candidates, you'll be glad you have your notes.
Once you have completed the initial interview(s), it's highly valuable for you to show the applicant the house and grounds. By doing a walk-through of the property with the candidate, you can conduct a "show and tell," providing more detail about the requirements of the position at hand. This will help give the applicant a much better idea of what's required of the job. (If you're working with an agency and looking to hire multiple household employees, I would recommend having the placement specialist with whom you're working see the property as well.)
Before closing this section, I'd like to offer one more helpful tip. Don't rule out a candidate who seems "overqualified" without giving the person proper consideration. Unless there are other reasons for eliminating someone from your candidate pool, doing so because the individual seems too qualified is generally not a good move. Well-qualified candidates often have a variety of reasons for applying for the position at hand (e.g., cultural fit and benefits), and you don't want to lose out on making a great hire due to fear that the person is overqualified for the position.
---
Looking to learn more about today's best practices for hiring household staff? Take advantage of our special offer below!
Principals, Managers & Assistants – Now you can request a complimentary copy of the newly released book for household employers by Hamptons Employment Agency, Inc. Founder and President, Aleksandra Kardwell…

How to Find, Hire, and Keep the Right Domestic Professionals

The Household Employer's Guide to Hiring Great Employees Who Will Stay for Years

Request your complimentary copy today by clicking here or on the book image at left.;
Or, contact us today for a free, no-obligation, privacy-assured phone consultation. Give us a call at one of our four locations listed below. We look forward to hearing from you regarding your domestic staffing needs.
Hamptons Office:  631-204-1100
New York City Office: 212-810-9828
Boston Office:  617-865-5888
Florida Office:  561-560-0001
Or, use our brief and easy online Staffing Inquiry Form.
We look forward to hearing from you regarding your Household Staffing needs.